***PositrakPro Release Ver 2.0.3.1***
PositrakPro 2.0.3.1 will be available for update on October 1, 2018. Updates must be installed by Positrak Support.
1.  Added link to Main Menu for PositrakSupport.com.
2.  Multiple improvements and new features in the Purchase Order System:
When creating a PO, added an indication that highlights a part in yellow if it already exists on another PO.
When creating a PO, added a "price and availability check" which uses a selected stock check server to check a PO for price & availability. Warehouse qty is shown in a new column out to the right.  Note:  this could take a couple minutes to complete for larger POs.
When editing a PO, added an indication and a highlight in yellow if a part already exists on another PO. This will be shown in the last column.
In all new POs going forward, orders will be tagged as a "stock" order (done from PO system) or a "web" order (done from stock check). In the PO Main Menu, stock and web orders are separated to make them easier to find, edit, and post.
For multi-store POs, added a function that can check other locations and indicate parts that are overstocked at that location.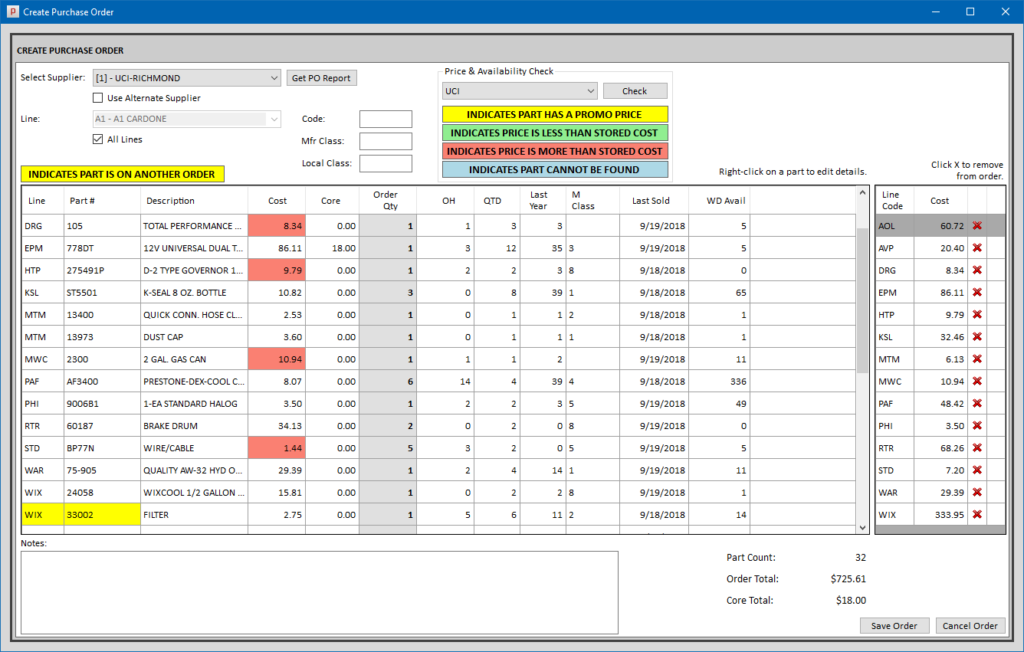 3.  Multiple End of Month/Statements Improvements:
Removed the "Print End of Month Reports Now?" prompt when doing the month end closeout so that it will go to that screen automatically.  If this step is skipped, important reports will not be delivered – such as the automated Wix Rebate report.
Added the Parts Distribution Report to the list of "Saved Reports" that can be delivered by email along with the end of month closeout.
Emailing and Printing statements are now done from the same screen. In the print statements menu, the list of accounts are shown, along with an indicator of delivery type – email or print.
At the end of the process, the email log will be emailed to you, indicating if the emailed statements were sent successfully.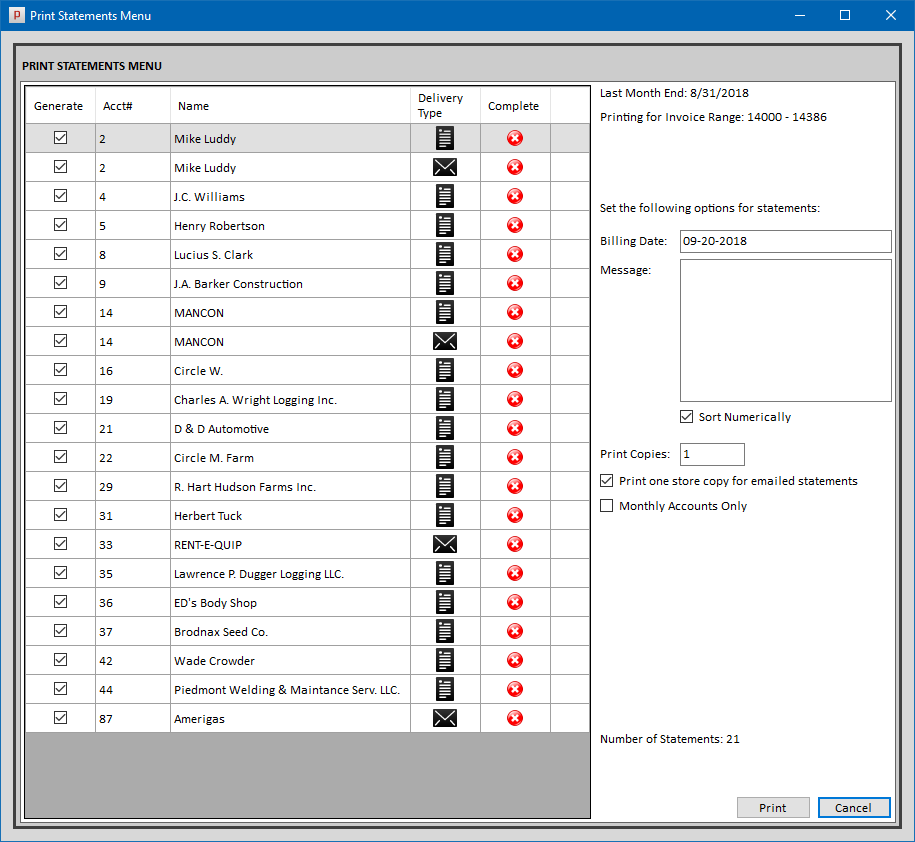 4.  Minor improvements to various catalog functions.
5.  Improvements to Emailing warehouse returns: made the email default to the supplier's email address, added the return # in both the subject line and body of the email.
6.  Added a prompt to the daily closeout that indicates with an error message if the backup is unable to copy to peripheral backup devices.
7. Added a function to the Price Specials import to delete expired forced pricing when loading a new list of price specials.
8. Added a user preference to force account pricing refresh when an account is changed at POS without a prompt Y/N.
9. Added ability to email a Hold Ticket from the Recall screen in POS.
10.  Fixed issue where a reprinted invoice was routed to the default printer rather than the specified invoice printer in Preferences.