Updates must be installed by Positrak Support staff.
Added the ability to do a "line item" comment in Point of Sale by using the Insert Key on the keyboard.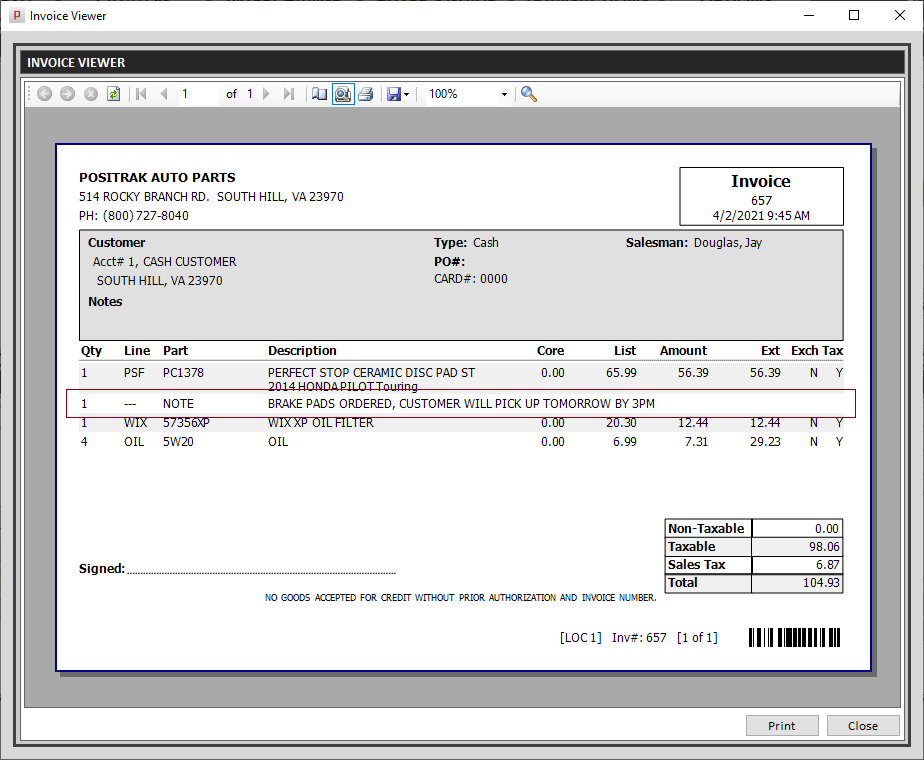 Added a feature when billing labor to allow fractional units. Pull up the designated Labor part number in Point of Sale, and you can use fractional units in the qty field along with the "L" shortcut (ex: 2.5L). The labor will be calculated based on the hourly labor rate stored in Preferences.

PO System feature additions:

Added features to the automated PO process, including the ability to check the vendor for availability when creating the order.
Added the ability to transmit POs Moog Warehouse in Louisville, KY and any other Alliance member distributor using their MPFP connection.
Added an optional "Print Confirmation" for stock check orders from Point of Sale. This is set in Preferences and will automatically print an order confirmation when part(s) are ordered from a distributor from Stock Check.
Improved the "Historical Transaction Search." This is for jobbers that come from a competitor system and need the ability to search transaction records from their previous system.

Added a printable report.
Improved the search.
Added the ability to use Account Number + 'X' in Point of Sale for quick search.
Added two new defaults for when adding new accounts: "PO Required" and "Enable Saved Cars."
Added the ability to search the Transaction Log by employee.
Optimized the "Account Vehicles" feature to populate the vehicle to the catalog if a Vin # is stored.
Changed POS to not ask for a signature on a charge account if the customer does a one-time cash only override.
Added the ability to print the "Negative On Hand" report along with the automatic daily closeout.
Added the ability to view Engine Oil Capacity from the catalog screen while looking up other parts. The "Engine Oil Capacity" category shows up under Filters/Ignition > Filters & PCV > Engine Oil Capacity. The capacity can be added to the invoice just as any other line item.