Updates must be installed by Positrak Support staff.
Minor POS improvements:
a. Set the "Alternates" label in POS to highlight in green to help draw attention when parts have alternates available.
b. When stock checking and using the drop down for parts on the invoice, added the qty to display in the drop down, so you can see how many are on the invoice and are needed for ordering.
c. Changed the transaction search to search within the PO # string, rather than just "starts with."
Added ability to search accounts with an "Account Alias" to allow searching accounts by alphanumeric values.
Changed the nightly backup process to preserve hard drive space.
Various Reporting Changes and Improvements:
a. Added Total Sales Tax to the Customer Purchase Report in AR, in addition to the total sales.
b. Improved and added data to the daily Invoice Register report, Daily Cash/Charge Transactions reports, and the Salesman Report.
c. Added a log for open item payments that records the specific invoices being paid off, and an associated report from the AR screen.
d. Added a new Barcode Label format added – Avery 5160/5260 with barcode.
Price Updating new Features and Improvements:
a. Changed Price Updating process to be server side, significantly improving update speed.
b. Various improvements made to the "Process Manufacturer Maintenance File" process, particularly with House Hasson Hardware.
c. Added new "Pricing Rules" feature for Price Updating, to specify update parameters for velocity pricing (by Mfr Class), by cost range, or by subline.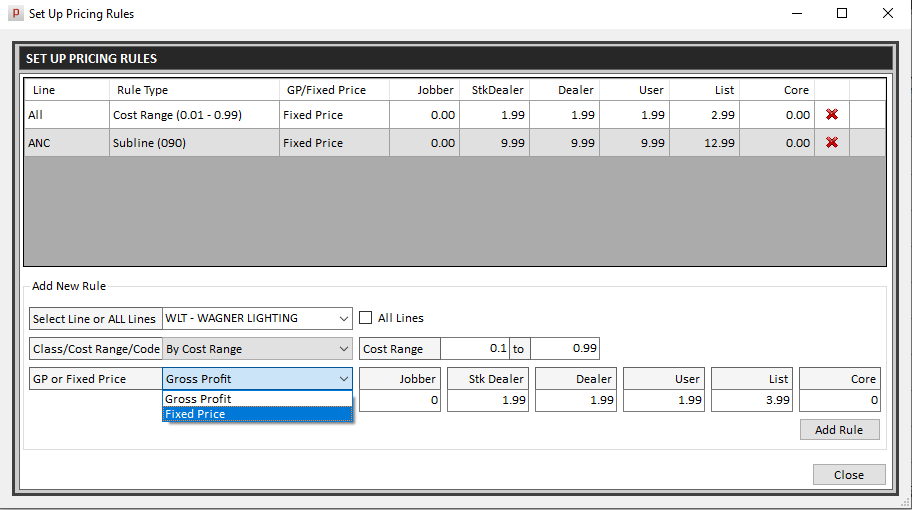 Various other improvements:
a. Fixed the supersede part procedure to include moving the barcode to the new number.
b. Added the ability to add User Preference exceptions by location in multi-store configurations.
c. Added "Routing" field in Suppliers to specify shipping codes where necessary, particularly for Auto Plus "relay" locations.