The latest version of the PositrakPro Mobile app will be released this week. The newest feature: Catalog Lookup directly from your phone/tablet!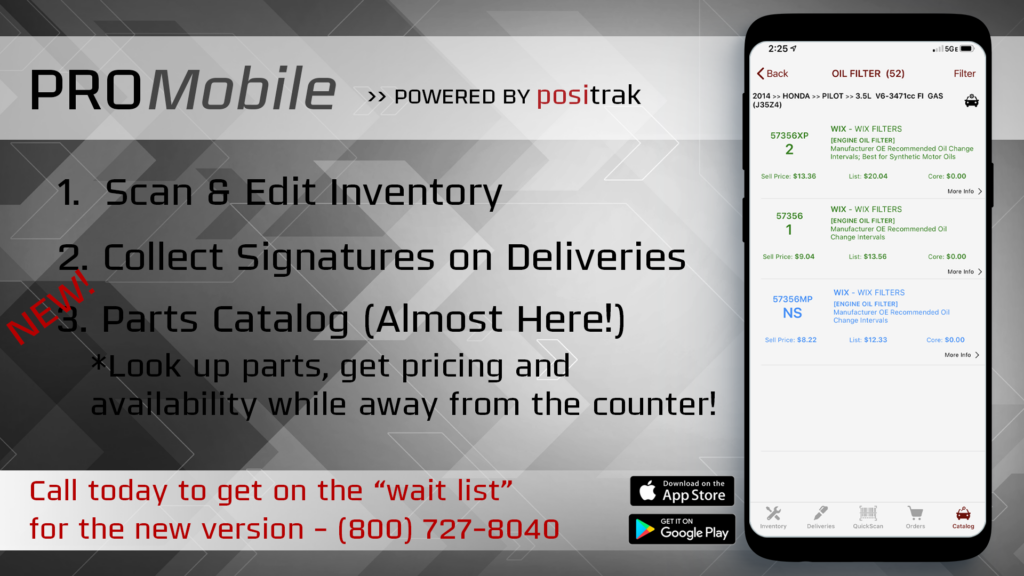 The PositrakPro Mobile app is the perfect companion for your PositrakPro jobber system. Available for Apple and Android devices, both phones and tablets, you can have many important functions of your Positrak system right at your fingertips.
With your existing phone or tablet, you can:
1) Scan inventory and make corrections.
2) Collect customer signatures on deliveries.
3) Use the electronic parts catalog to look up parts, and view pricing and availability even while away from the counter or outside of the store.
Other features include basic purchase order and inventory reporting functions, including the ability to export and email an inventory report while on the go.
The new version will be out soon, but you don't have to wait to get it.  It is available now with great features like inventory scanning and signature capture.  Give us a call or email to get your login today!  The cost is only $10/month if you are not already signed up.